EXCEL ENGINEERING
CASE STUDY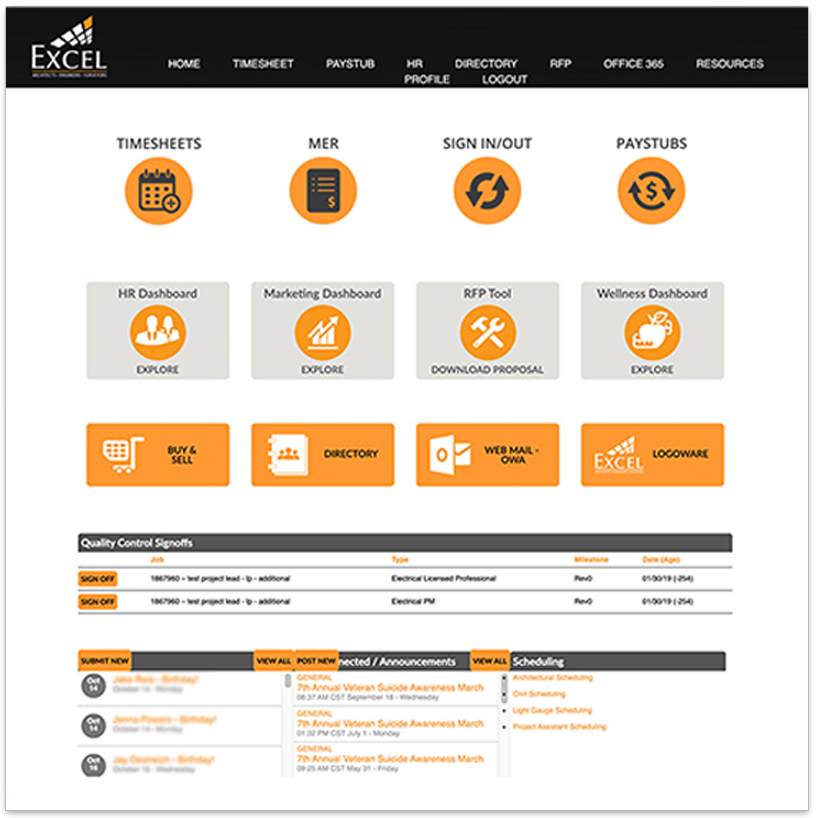 CORPORATE EXTRANET
Excel Engineering needed to provide an efficient line of communication for its employees. They wanted to add a secure employee portal to the corporate extranet which would include HR benefits and forms, wellness and marketing dashboards, timesheet entry and paystub management for mobile employees, data entry for mileage and travel expenses including the ability to submit pictures of receipts via mobile device SMS, as well as a number of other employee management features. In addition, Excel wanted a classifieds area for employees to sell items to other employees, an employee photo directory, and a custom PayPal capable logoware store geared toward promoting Excel logoware clothing. Excel Engineering employees now enjoy a secure online portal which includes remote access to:

Timesheet entry

Mileage Expense Reimbursement entry

Sign-in / Sign-out system integration

Paystub history with a custom Sage export

HR dashboard with FAQs and common benefit forms

Marketing dashboard with employee resumes

Employee pictorial directory by department

Excel logoware store with PayPal checkout

Calendar of company events, employee birthdays

Forum to post personal notices and ads for personal employee events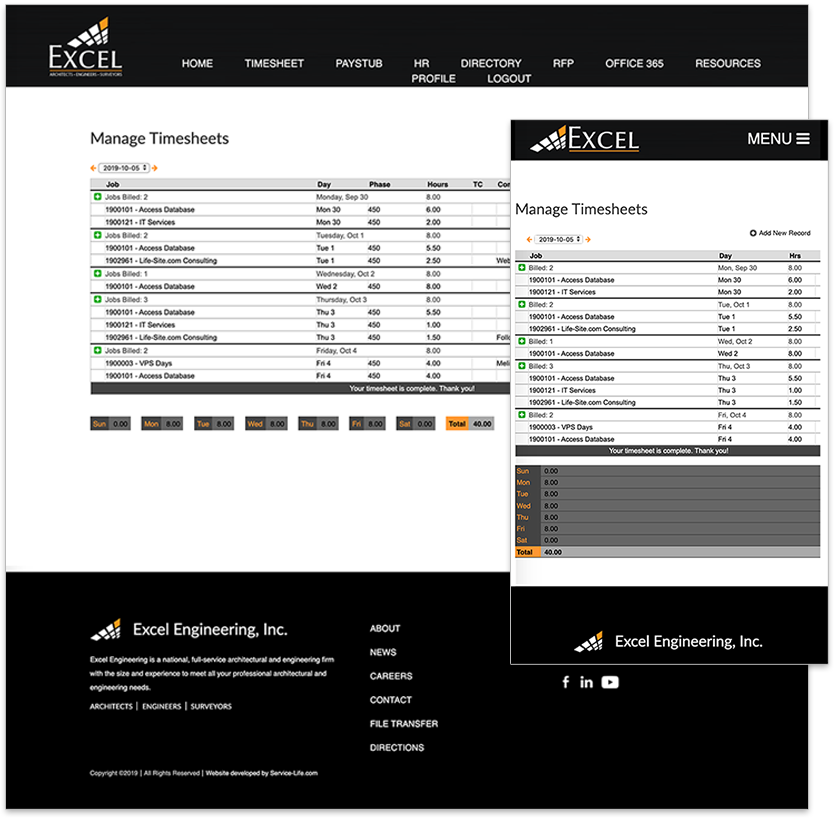 TIMESHEET ENTRY
Excel already had a time tracking system but they wanted a way to make time entry mobile. They asked SQL-Life.com to build an online custom secure form to enable employees to log into the corporate extranet and record time associated with specific jobs. The application integrates the following features with the internal timekeeping system automatically.
Add/Edit timesheet entries

Job numbers for job costing

Phase code for job costing

Date and Times

Timecode entry for further timesheet analysis

Comments

Summary of hours worked each week

Ability to mark timesheet entries as completed
MER - Mileage Expense Reimbursement
Excel needed a way to collect employee receipts for business expenses and to record employee mileage for work. SQL-life installed a custom application which allows employees to enter mileage and business expenses and submit receipts via SMS, all with secure mobile entry. MER features include:
Date

Employee single-sign-on access

Job number link for job costing

Expense type (car rental, hotel, etc.)

Amount

Notes

Ability to mark that all receipts have been entered for each month

Mobile friendly

Ability to take a picture of a receipt and attach to a specific expense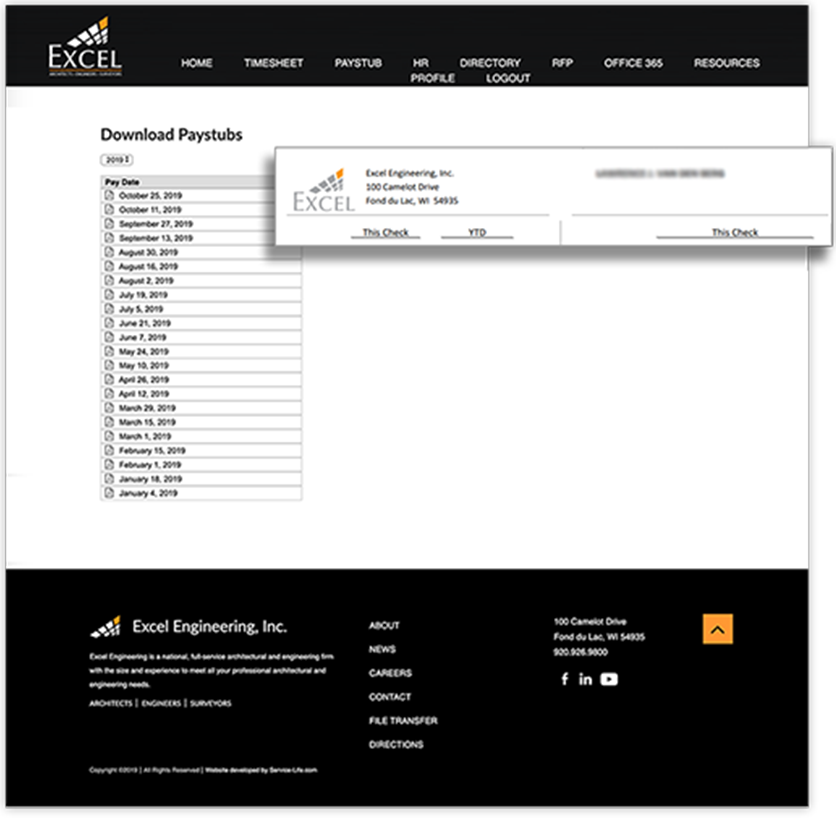 PAYSTUB HISTORY
Excel processes their payroll with Sage and time entry is recorded in a custom database application. They wanted the ability to export Sage data to create a paystub for each employee. They had a custom web application built to automatically upload a secure, pin-protected paystub PDF to the corporate extranet each pay period. Employees can access their paystub information at any time by logging into the secure extranet.